When I was little sending a kid to public school was relatively effortless.
Your parents signed you up. You went. The end.
Nowadays things are a bit more complicated. You see, we live in California, and in case you hadn't heard,
our schools are in a bit of trouble
.
Now this is the part where I stop and tell you how awesome my kids' school is. Truly, it is an amazing place. In fact, their school (and the school system in which it exists) are the primary reason we moved to our neighborhood.
One of the things that makes it so amazing is the dedicated school community (teachers, administration & parents) who regularly step up to fill in the gaps that result from state budget cuts. One way this is accomplished is via the "Foundation," an organization whose primary objective is to

provide financial support to enhance curriculum (specifically in the areas of technology, art, music and science).
The Foundation holds fundraisers throughout the school year but the biggie is a gala/auction held every spring. Auction baskets for this event are donated by every classroom. Room moms are in charge of this effort. (Have I mentioned that I'm a room mom? Are you surprised?)
Each class does things a little differently. Some room moms collect money for the basket at the beginning of the year. That way the other parents don't need to worry about the basket beyond a $5 donation in September.
Other classes come up with a theme and have parents donate items relating to that theme for inclusion in the basket. I've done it both ways. This time around my co-room mom and I decided to ask for the money up front so we didn't need to go back to the parents for another donation in the spring.
We decided to do a Trader Joe's basket. We had $110 in donations. The end result was actually three Trader Joe's baskets. I'm going to show you what we made and how we made them.
Most of our money went towards dry goods from Trader Joe's. It was obvious that we were going to get more than one basket out of our money so we decided to do one "Italian" basket and another "TJ's Sampler" basket.
Here's what we included in the Italian basket:
From l-r: Italian wine, pesto sauce, Italian blood orange sparkling soda, salami, two kinds of organic pasta, Puttanesca sauce, Paresan crisps, Italian olive oil, Balsamic vinegar, Chocolate almond Biscotti & Bruschetta sauce.
Confession: the Italian "basket" isn't really a basket. Instead we put all of the items in a reusable TJ's tote. It's not technically an "Italian" bag but the colors have a warm, Tuscan feel.
Basket number two actually ended up being numbers two and three. Here's what they included:
Prosecco and Pomegranate Sparkling Soda
Chutney, Three Cheese Pasta Sauce, Pineapple Salsa & Honey Apple Butter
Himalayan Pink Salt Crystals & "Everyday Seasoning" (both with built-in grinders)
Calimyrna Figs and Chocolate Orange Sticks
Dark Chocolate Crisps (Chocolate covered potato chips!!)
Bistro Biscuits
Organic Corn Chips and a Basmati Rice Medley
Pappardelle Pasta (pictured with the aforementioned sauce)
Cans of Caffe Latte, Fair Trade Bolivian Blend Coffee, English Breakfast Tea & the Bistro Biscuits
Oatmeal & Honey Pure Vegetable Soap
Each year I like to make a personal donation to the basket beyond my family's monetary contribution. This year it was the Cooking with Trader Joe's Companion Cookbook. I love it because it's just the right size to slip into your purse so you can bring it to TJ's and shop away.
Our final item was this TJ's oversized, insulated tote. I have one and I love it!
With the ingredients gathered it was time to assemble the basket. At this point I had about $5 left in the budget. I knew that Michael's had these baskets which are often my go-to for auctions. Originally priced at $9.99, it was on sale for 40% off. Then my cashier scanned an additional 40% off coupon from behind the register. (I don't think she was supposed to do that but I'm glad she did ;)
I had some of this in my garage, two bags to be precise, probably left over from last year's auction. There are all kinds of things you can use for cushioning in your basket. I like the free stuff I find in my garage ;)
Spread it in the bottom of the basket, saving some to fill in any gaps.
Then start adding items...
and shifting them around...
...until you're pleased with the arrangement.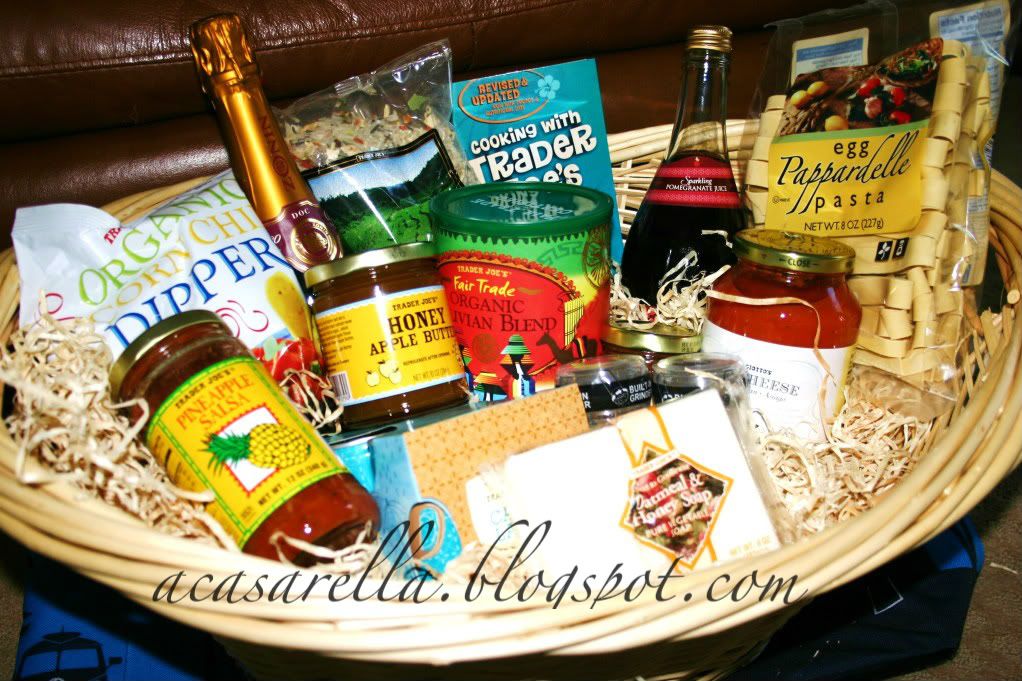 Now if you're anything like me, most projects have at least one glitch. In this case it was the fact that my stuff was too heavy to fit in one basket. I was really afraid the bottom would fall out so I decided to remove some things in order to make a third, smaller basket.
Fortunately I had this thrifted beauty in the garage. I found a stack of them at Goodwill awhile back and just knew I'd be able to use them. (Plus they were in pristine condition.)
I was out of the natural wood fiber but had plenty of this from Easters-past:
So I picked a few items that seemed to "go" together and made a little "Cafe Basket." It contains the coffee, the tea, the cans of caffe latte, the Bistro Biscuits and the dark chocolate crisps.
So now I had three auction items, two of which needed to be wrapped.
(I left the Italian bag as-is.)
Looking at this post, I realize that it's starting to get a bit... lengthy. I think I'm actually going to break it into two parts and document the wrapping process next time.
So you can just call this "to be continued...."